Government Decision On Lotus Money Due Soon
Friday 25th March 2011
Will regional growth fund inject cash into Lotus to keep production in the UK?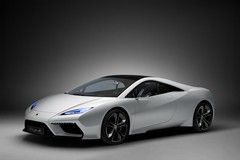 We'll find out early next month if Lotus is to keep all its production facilities in the UK, when the government will reveal whether or not it has approved Lotus's request for a cash injection to ensure the new Esprit is built in the UK.
Lotus applied for a chunk of cash from the Regional Growth fund back in January and, should it not get approval for it, could well move some future production out of Norfolk, starting in all likelihood with the forthcoming Esprit.
Government money, on the other hand, would make future Lotus production much more likely to remain in the UK, although even then word has it that Lotus won't rule out moving part of its production to the likes of Magna or Finnish firm Valmet.
One thing Lotus is firm on is that, whatever happens, Hethel will remain its HQ for engineering and R&D.But it seems that everything else is fluid, even though Lotus is avowedly keen to keep its manufacturing heart in the UK. And we won't know more for sure until the Regional Growth Fund makes its decision in the next week or so.